Custom Search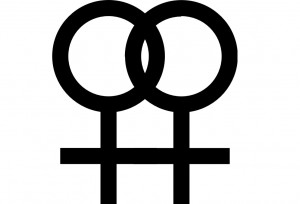 Researchers have found a link between polycystic ovarian syndrome (PCOS) and lesbian women.  PCOS is twice as prevalent in lesbian than in heterosexual women according to a 2004 study at the London Women's Clinic in Harley Street, London.
Dr Rina Agrawal, a Consultant Gynaecologist, Medical Director of the London Women's Clinic and Honorary Associate Professor in Reproductive Medicine at Warwick University led a study of 618 women including 254 lesbian women from November 2001 to January 2003.  The women had all attended the clinic for fertility treatments.  The findings were presented at the 19th European Society of Human Reproduction and Embryology conference  in Spain in 2004.
"We observed a significantly higher prevalence of polycystic ovaries/PCOS in lesbians compared with heterosexual women," said Dr. Agrawal. "Our initial results are also suggestive of a significantly greater hyperandrogenism in lesbians compared with heterosexual women."
In the general population 22% or around 1 in 5 women will have polycystic ovaries and 10-15% will have full-blown PCOS.  Amongst women seeking fertility treatment, around 40% will have either polycystic ovaries or PCOS.
Whilst a significant proportion (32%) of the heterosexual women in this study had polycystic ovaries an overwhelming proportion (80%) of the lesbian women in the study were found to have polycystic ovaries and these incongruities followed on to the percentage of women having full-blown polycystic ovarian syndrome: 14% of heterosexual women in the study had PCOS; 38 % of homosexual women in the study had PCOS.
Whilst the women in the study group were not representative of the general population, as they had all presented for fertility treatments, it would be fair to assume that if a population based study were to be performed the results would be in line with this study or perhaps show an even more striking disparity between the percentage of lesbian women with PCOS as opposed to hetersexual women with PCOS.
PCOS is the most common cause of female infertility and ovarian dysfunction.  It is characterised by higher than normal levels of androgens, 'male' steroid hormones such as testosterone.  Although both men and women produce testosterone, women normally only produce a very small amount.  When women produce excess amounts of testosterone, they can suffer symptoms such as thinning of the hair on the top of the head in a male pattern, increased growth of body hair, facial hair and weight gain in a masculine pattern.
The hormonal and biochemical imbalances associated with PCOS, such as elevated testosterone levels or decreased sex hormone binding globulin (SHBG) may contribute to the sexual orientation of women who are attracted to other women.
It must be made very clear that correlation is not causation.  This study shows a strong link between PCOS and lesbian women.  It does not in any way infer that either one causes the other.  It does highlight the need for two things:
Further research into why lesbian women might have a greater risk of PCOS
Health professionals need to be cognisant of the higher rate of PCOS amongst lesbian women and where appropriate refer the woman for testing and treatment, irrespective of fertility goals.
In the words of Dr Agrawal "Our study emphasizes the importance of treating these women in a non-judgmental and non-biased manner, so that clinicians may offer them appropriate health advice."  She added "Our research neither suggests nor indicates that PCO/PCOS causes lesbianism, only that PCO/PCOS is more prevalent in lesbian women. We do, however, hypothesise that hyper-androgenism, which is associated with PCOS, may be one of the factors contributing to the sexual orientation of women."
Dr Agrawal and her team were quick to dismiss any idea that treatments for PCOS could be seen as a 'cure' for lesbianism.  "We do not view lesbianism as a disease that is in need of a cure".  Lesbian women as a demographic do, however, have unique health needs, both physically and and psychologically and clinicians need to be aware of these.
4 out of 5 lesbian women in this study had polycystic ovaries and 2 out of 5 lesbian women in this study had full-blown PCOS.  As PCOS increases the risk of diabetes and cardiovascular disease including hypertension, stroke, coronary atherosclerosis and heart attack, it is important that PCOS be
detected
and
treated
.
A further study by a team of researchers at the University of Pittsburgh in the United States, published this time in the journal Women's Health Issues in 2011, whilst small, also found that the rate of PCOS was twice as high in lesbian women as in heterosexual women.  The group examined 211 women aged 35 to 45 who participated in The Epidemiologic STudy of HEalth Risk (ESTHER) Project.  6.2% or 13 of the women had PCOS, however, the prevalence was twice as great in lesbian women 7.9% or 9 of the lesbian women as it was in heterosexual women 4.1% or 4 women.
More Information:
Agrawal R, Sharma S, Bekir J, Conway G, Bailey J, Balen AH, Prelevic G., Prevalence of polycystic ovaries and polycystic ovary syndrome in lesbian women compared with heterosexual women.  Fertil Steril. 2004 Nov;82(5):1352-7.  http://www.fertstert.org/article/S0015-0282(04)02227-7/fulltext
Agrawal R, Sharma S, Prelevic G, Bailey J, Bekir J, Conway G.  The prevalence of polycystic ovaries and polycystic ovary
syndrome in lesbian compared with heterosexual women  Hum. Reprod. (2003) 18(suppl 1): xviii25-xviii27
Abstracts of the 19th Annual Meeting of the ESHRE, Madrid, Spain 2003 Abstract no: O-070 (Monday 30 June 2004, 15.15 hrs CET, Roma room) http://humrep.oxfordjournals.org/content/18/suppl_1/xviii25.full.pdf+html
Smith HA, Markovic N, Matthews AK, Danielson ME, Kalro BN, Youk AO, Talbott EO.  A comparison of polycystic ovary syndrome and related factors between lesbian and heterosexual women.  Womens Health Issues. 2011 May-Jun;21(3):191-8. Epub 2011 Feb 18.  PMID: 21310628