Custom Search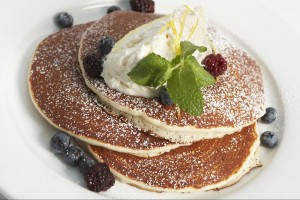 Many people who adopt a low carbohydrate lifestyle find that a leisurely weekend breakfast of pancakes is one of the things that they miss the most.   Pancakes can make a weekend, a public holiday, birthday, Mothers' Day or Valentine's Day a little bit more special, however, when made the traditional way they are exceptionally high in the worst kind of carbohydrates, as well as gluten which many people react badly to.
Pancakes made from highly refined white, self-raising flour by themselves without any topping have a glycaemic index value of just under 70 which is the threshold for a 'high GI food'.  Once you add honey or sweet syrups, the GI value rises steeply.
A healthier alternative is to replace the flour component with a gluten-free, lower carbohydrate, lower GI alternative such as almond flour, coconut flour or buckwheat flour.
Next time you feel like a pancake morning or want to spoil a loved one, why don't you try this recipe for gluten free, low carbohydrate, low glycaemic index Apple Cinnamon Pancakes made with eggs, ricotta cheese and almond flour?  The recipe will feed four people or you can halve the ingredients if you just want to serve 2, or keep the batter in the fridge for a day or two, ready for an encore performance.
For extra plate-appeal and some antioxidants, try serving these pancakes garnished with berries like blueberries, strawberries, mulberries, raspberries or blackberries,toasted almond slivers, lemon zest or a mint sprig.  Have fun with the recipe and do't be afraid to experiment with substituting different types of lowcarbohydrate, gluten-free flours or trying fruits like blueberries instead of an apple in the recipe to increase the moistness.
Serves 4
Ingredients:
Pancakes
6 eggs, separated
1 cup almond flour or meal (250 grams)
1 cup smooth ricotta cheese low-fat if preferred (250 grams)
1 apple, grated
1 teaspoon cinnamon
1 teaspoon vanilla extract
stevia extract to taste, if required.  I use Nirvana Organics 100% pure stevia powder and in this recipe I added 5 scoops or 0.30 grams which is equal to 5 teaspoons of sugar in sweetness.
Method:
Put a frying pan on low-moderate heat to preheat, ready for your batter.
In a clean mixing bowl, beat the egg whites until stiff peaks form.  In another bowl mix together the dry ingredients, then add all remaining ingredients to the meringue and gently fold together until well combined.
Drop about 2/3 of a cup of mixture into the hot pan and shake it a little to make a thinner pancake.  Alternatively you could add a little milk to the batter to make it runnier or puree the apple instead of grating it.  Turn the pancakes over when the bottom has browned, or after approximately 1-2 minutes, depending on the heat.
Serve with Maple Ricotta Topping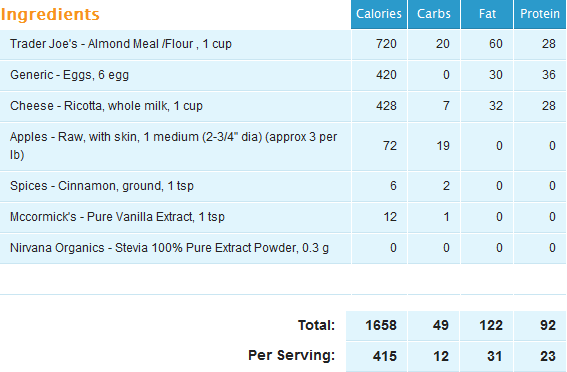 Maple Ricotta Topping
2 cups smooth ricotta cheese (low-fat if preferred
1 teaspoon cinnamon
1 teaspoon lemon juice
1 teaspoon vanilla extract
1 tablespoon xylitol
stevia extract equivalent to 1 tablespoon sugar
2 tablespoons maple syrup (contains 26 grams carbohydrates, glycaemic index of 54) (or more if you prefer and can tolerate the added high glycaemic carbohydrates).
Method:
Mix all ingredients together until combined and enjoy on top of pancakes, fruit bread etc.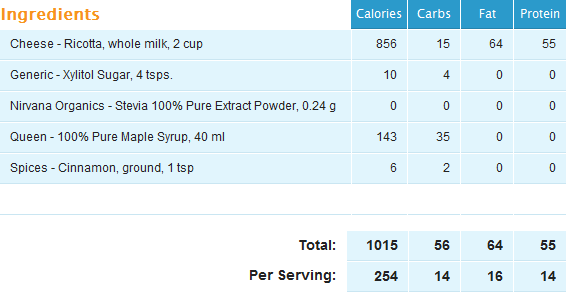 As you can see from the nutritional information summary above, this is not a low-calorie meal.  Whenever you replace a high-carbohydrate flour such as white wheat flour with a high-protein, high-fat flour such as almond flour, the extra density of the almond flour comes with around twice the calories.  It also has around twice the protein, 30 times the fat and less than a third of the carbohydrates and should leave you feeling full for a much longer time.