Custom Search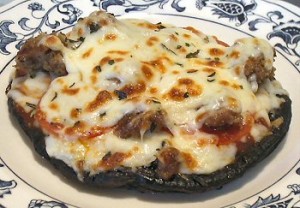 Mushrooms are packed full of healthy low-carb nutrition and the large Portobello varieties make excellent mini pizza bases.  These pizzas contain less than 100 calories each, are gluten-free, low in fat, low in carbohydrates and packed full of nutrition.
Mushrooms are low in calories, carbohydrates, sodium, saturated fat and cholesterol and are packed with fibre, protein, vitamins and minerals.  One quarter of the calories in mushrooms come from protein and they are a great source of B vitamins, iron, magnesium, potassium, zinc, manganese, selenium, phosphorus and copper.  For those who are trying to conceive, mushrooms are an excellent source of folate, which prevents neural tube defects like spina bifida in the developing foetus.
Ingredients:
4 Portobello mushrooms
1/2 cup mozzarella cheese
4 cherry tomatoes, quartered
1/4 cup extra lean ham
1/4 cup sliced or grated zucchini
1/4 cup mashed avocado
1/4″ slice of onion, diced
2 tbsp tomato paste
Just take four portobello mushrooms, snap out the stems, pop them under the grill for 5 minutes to soften and warm through then put a tablespoon of pasta sauce or a smear of tomato paste on the bottom, add some mozzarella cheese, pop under the grill again for a couple of minutes or until the cheese has melted, then top with some shredded ham, chicken or prawns and lots of your favourite veges.  Try grated zucchini, finely sliced tomatoes, capsicum, avocado, onion, pineapple, corn, olives, eggplant, pumpkin or anything else which strikes your fancy.  You can't go wrong with these delicious, healthy pizzas.
Make them as a snack when kids come home from school, or add a serve of salad and call it dinner!