Custom Search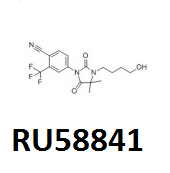 A reader recently mentioned coming across this drug which was first studied in the 1990′s for the treatment of male pattern baldness, or androgenetic alopecia in men.  It is now known as PSK-3841 and has also formerly been known as HMR-3841.
A 1997 study of nude mice with skin transplants from balding male scalps found that those mice treated with the drug had four times the number of hair follicles regrow hair in the second cycle after implantation.  It was a small study, only 20 mice, 10 of which were controls, and four times the number of hair follicles equates to 8 out of 29 as opposed to 2 out of 28.
Interest in the drug for the treatment of hair loss dwindled, perhaps due more to commercial potential and chemical stability reasons than efficacy as the later studies of RU58841 have focused on different chemical forms of the drug and combining it with various nanoparticles to enhance delivery.  Recent years have seen the odd study pop up in relation to RU58841 and the treatment of acne and prostate cancer, which are conditions also driven by testosterone, however, the most recent study published in relation to RU58841 was back in 2008.
RU58841 is a non-steroidal anti-androgen drug, which competes with dihydrotestosterone or DHT for binding at the receptors where it causes hirsutism or hair loss.  It has been evaluated as being approximately equivalent in strength to hydroxyflutamide, a drug which is sometimes used in PCOS to treat hirsutism or androgenetic alopecia.  One study in 1998 concluded
"The potency of RU58841 was comparable to that of hydroxyflutamide. From this result, topical application of RU58841, which is considered to be a potential therapy for skin diseases, may induce systemic side effects. However, RU58841, on topical application, revealed a potent increase in density, thickening, and length of hair in the macaque model of androgenetic alopecia, whereas no systemic effects were detected. Together our results suggest that RU58841 may have potent antagonism to the wt AR (wild type androgen receptor) and could be considered as a topically applied active anti-androgen for the treatment of androgen-dependent skin disorders, such as acne, androgenetic alopecia, and hirsutism."
When compared with the antiandrogenic compound cyproterone acetate, PSK-3841 exhibited a 20% increase in androgen receptor binding. The compound binds to both the ligand and regulatory domains of the androgen receptor.  PSK-3841 exerts allosteric binding effects and may provide a unique mechanism of action in the treatment of alopecia.
Studies to date have been limited to animal studies and in vitro studies or studies performed on cultured cell lines in petri dishes.  For this reason, a great deal of caution should be exercised when considering RU58841.  Neither short-term nor long-term safety data is available for the use of RU58841 in humans, although the information to date indicates that the action of the drug should be localised to the skin where it is applied.
A likely benefit of RU58841 for men in comparison to the arsenal of anti-androgenic drugs already available on the market, is the purported lack of a systemic effect.  For men, many anti-androgenic drugs reduce systemic testosterone levels resulting in testosterone deficiency symptoms such as reduced sexual desire and ability to achieve and maintain an erection, reduced ejaculate volume, lethargy and fatigue, reduced muscle mass, increased body fat, reduced bone mass and increased risk for osteoporosis, breast development and depression.
For women with PCOS, however, a decrease in systemic testosterone levels would generally be beneficial as testosterone does not only affect the androgen receptors in the skin and scalp.  One possible scenario where a non-systemic anti-androgenic action might be desirable may be in when a woman is pregnant and carrying a male foetus, as taking anti-androgenic drugs whilst pregnant can lead to serious consequences for a developing male foetus.
RU58841 appears to be available for purchase through several outlets, including a company called Kane, however, it is horrifically expensive at around $225 for 10 grams, a supply which is likely to last for just 100 applications and I doubt the legality of selling a drug which has not passed any human safety or efficacy testing.
A forum called Bald Truth Talk has quite extensive instructions for making the raw drug up into a solution which is suitable for topical application.  These instructions imply that the product has a very limited shelf-life once made up into solution using alcohol and propylene glycol and that it is necessary to make up a fresh batch every 2-3 days, but preferably every day.
A company called Proskelia Pharmaceuticals which are a part of ProStrakan Pharmaceuticals apparently completed Phase I and Phase II clinical trials of the drug after purchasing it and changing its name to PSK 3841.  They used  studies applied the drug in a solution made with 70% alcohol in 2002 and 2003, however, the results of those studies have not been published, nor has any apparent progress been made towards bringing the drug to market.
A 2005 review article summarised the research into PSK 3841 thus:
"A topical, non-steroidal androgen antagonist, PSK-3841 (formerly HMR-3841 and RU-58841), is being investigated in France by Proskelia for possible therapeutic value in AGA and acne. The compound was is Phase II clinical trials as of January 2004, and was originally researched by Roussel-Uclaf and Hoechst Marion Roussel. When compared with the antiandrogenic compound cyproterone acetate, PSK-3841 exhibited a 20% increase in AR binding. This compound binds to both the ligand and regulatory domains of the androgen receptor. PSK-3841 exerts allosteric binding effects and may provide a unique mechanism of action in the treatment of alopecia.
Imamura et al. noted that this compound prevents androgenetic follicular regression in bald stumptailed macaques; however, it does not promote follicular cell growth directly. Photographic and folliculogram evaluations of combined PSK-3841 5% plus minoxidil 2%, or minoxidil 5% versus previous results from each compound's performance alone were compared. The most rapid hair regrowth in 1 month was observed in the PSK-3841 5% plus minoxidil 5% group, followed by 2 months for the PSK-3841 5% plus minoxidil 2% group. At 3 months, hair regrowth was comparable for both PSK-3841 5% and minoxidil 5% alone. At the 3-month interval, the researchers noted that both combined groups had regrowth of long-terminal hairs that persisted for 6 – 12 months. The combined groups also boasted greater anagen conversion and follicular enlargement over the individual compounds alone. It was concluded that the combined treatment groups experienced the greatest impact early on; however, after 1 year had elapsed, no difference was observed in the combined treatment groups versus PSK-3841 or minoxidil used alone.
Pan et al. compared the antiandrogen effects of RU-58841 with other known antiantrogens, hydroxyflutamide, Casodex™ (bicalutamide) and genisten in human prostate cells. PSK-3841 demonstrated suppression of DHT activation of the androgen receptor competitively, and in a dose-dependent manner similar to the other antiandrogens. Pan et al. applied topical RU-58851 5% to the bald scalp of stumptailed macaques. Researchers evaluated folliculogram results and noted an increase in the number of anagen follicles and a decrease in telogen follicles as compared with baseline. The PSK-3841-treated group displayed progression from telogen to anagen and an increase in follicle size as opposed to the control group. No systemic side effects were reported. PSK-3841, dosed at 100-fold the therapeutic tested range, showed no signs of systemic antiandrogenic effects. Pan et al. described results from RU-58841 as inducing "remarkable effects on hair and folliclar regrowth in the bald frontal scalp of macaques."
Brouwer et al. studied the effects of PSK-3841 (1%) in human scalp grafts on testosterone-conditioned nude mice. The PSK-3841-treated grafts were compared with controltreated grafts. The PSK-3841 grafts showed increased recycling. A second hair cycle was noted in 28% of the active follicles of the PSK-3841 grafts versus 7% in the placebo-treated group. PSK-3841 treated mice also had greater linear hair growth rates (LHGR). However, PSK-3841 had no effect on hair diameter.
Battmann et al. investigated PSK-3841 in the intact hamster model in which the flank organ area is evaluated; this organ consists mainly of androgen-dependent sebaceous tissue. PSK-3841 1 – 100 ?g/animal resulted in both a dose- and time-related reduction in flank organ area. No effects on T levels were noted at this dose range or mode of delivery. In contrast, the androgen-dependent sebaceous tissue of the flank organ area of the controltreated hamsters increased. When PSK-3841 was administered via the subcutaneous route, the higher doses of 300 and 1000 ?g/animal were required to yield the antiandrogen effects. Battmann et al. also tested PSK-3841 via percutaneous, subcutaneous and oral routes of administration in the rat model. Results reported that systemic antiandrogenic effects were only seen at the highest titrated dose of 10 mg. Results from the previously described experiments led researchers to conclude that PSK-3841 is a 'potent local antiandrogen' with a favourable safety margin."
It is difficult to remain patient waiting for new drugs to be developed and properly tested and brought to market, however, there is significant risk of unknown side-effects in taking matters into your own hands with an unapproved drug which has not been properly tested on humans.
More Information:
Battmann T, Bonfils A, Branche C, Humbert J, Goubet F, Teutsch G, & Philibert D. (1994)RU 58841, a new specific topical antiandrogen: a candidate of choice for the treatment of acne, androgenetic alopecia and hirsutism. The Journal of steroid biochemistry and molecular biology, 48(1), 55-60. PMID: 8136306
De Brouwer B, Tételin C, Leroy T, Bonfils A, & Van Neste D. (1997) A controlled study of the effects of RU58841, a non-steroidal antiandrogen, on human hair production by balding scalp grafts maintained on testosterone-conditioned nude mice. The British Journal of Dermatology, 137(5), 699-702. PMID: 9415227
Imamura, K. (1998-03–1) The effect of topical RU58841 (androgen receptor blocker) combined with minoxidil on hair growth in macaque androgenetic alopecia. , S207. DOI: 10.1016/S0923-1811(98)84240-0
Münster U, Nakamura C, Haberland A, Jores K, Mehnert W, Rummel S, Schaller M, Korting HC, Zouboulis ChC, Blume-Peytavi U…. (2005) RU 58841-myristate–prodrug development for topical treatment of acne and androgenetic alopecia. Die Pharmazie, 60(1), 8-12. PMID: 15700772
Pan HJ, Wilding G, Uno H, Inui S, Goldsmith L, Messing E, & Chang C. (1998) Evaluation of RU58841 as an anti-androgen in prostate PC3 cells and a topical anti-alopecia agent in the bald scalp of stumptailed macaques. Endocrine, 9(1), 39-43. PMID: 9798729
Poulos, Georgann A. (2005-02–1) Investigational medications in the treatment of alopecia. , 14(2), 177-184. DOI: 10.1517/13543784.14.2.177
ISRCTN49873657 – A double blind, randomised, vehicle-controlled, safety and tolerance study of topical PSK 3841 solution at 5% administered twice daily over four weeks to healthy Caucasian males with androgenetic alopecia
ISRCTN71083772 – A multi-centre, double-blind, randomised, vehicle-controlled study for a quantitative estimation of hair re-growth in male subjects with androgenetic alopecia treated over 6 month with two ethanolic PSK 3841 solutions (2.5% and 5%)
http://www.thekaneshop.com/index.php/anti-androgens/ru58841-165/ru58841-16.html
http://www.baldtruthtalk.com/showthread.php?t=12225